Meklon Automotive Refinishing High Solid Car Paint Hardener
• Provide stable gloss and hardness.
• High density and high coverage.
• Reduced solvent evaporation along with improved plumpness, gloss and hardness.

Automotive Refinish 2K Clear Coat Car Paint Hardener
1. BASF raw materials
2. Easy application
3. Accurate color matching
4. Long-lasting bright color
5.Good film saturation and gloss effect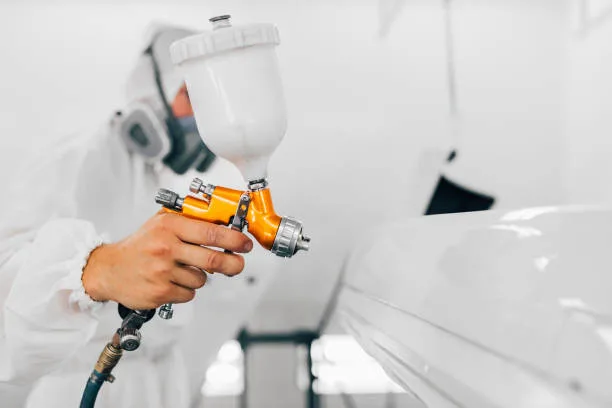 Packaging Information
Storage
Sealed stored in dry conditions within the temperature range 15°C to 20°C and relative humidity range 55% to 75%.
Shelf Life
24 months (Original sealed under above storage conditions)
Packaging (per carton)
1L * 12 can / 5L * 4 can
SURFACE PREPARATION:
1,Surface Should Be Clean And Free Of Dust, Grease And Oil.
2,Old Varnish Surfaces Must Be Sanded Using Grit Sandpaper Number 1200, Before Applying The Clear Coat.
| | | | | |
| --- | --- | --- | --- | --- |
| Temperature& mixed | Temperature | Clear Coat | Activator/ Hardener | Thinner |
| Temperature& mixed | <15ºc<> | BS/ES Clear Coat | BS/ES Fast Dry Activator | BS/ES Fast Dry Thinner |
| Temperature& mixed | 15-25ºC | BS/ES Clear Coat | BS/ES Standard Activator | BS/ES Standard Thinner |
| Temperature& mixed | 25-35ºC | BS/ES Clear Coat | BS/ES Slow Dry Activator | BS/ES Slow Dry Thinner |
| Mixing Ratio | | 2 | 1 | 0.3-0.5 |
Number Of Coats & Thickness: 2-3 Coats, 40-60μm Flash Time: Allow 5-10 Minutes Between Coats
Apply Using a Spray
Gun Nozzle:
1.2-1.4mm (Gravity Spray Gun)
1.3-1.5mm (Suction Spray Gun)
-Spraying Pressure: 3-4 Bar.
-Spraying Viscosity: 13~18s(Ford Cup #4 At 20ºC)
-Number Of Coats: 3 Coats Maximum.
| | | | | |
| --- | --- | --- | --- | --- |
| Drying Time | Temperature | Dust Free | Tack Free | Complete Dry |
| Drying Time | 20ºC | 1h | 2-3 hours | 24h |
| Drying Time | 60ºC | 5 minutes | 10 minutes | 60 minutes |
Product packaging specifications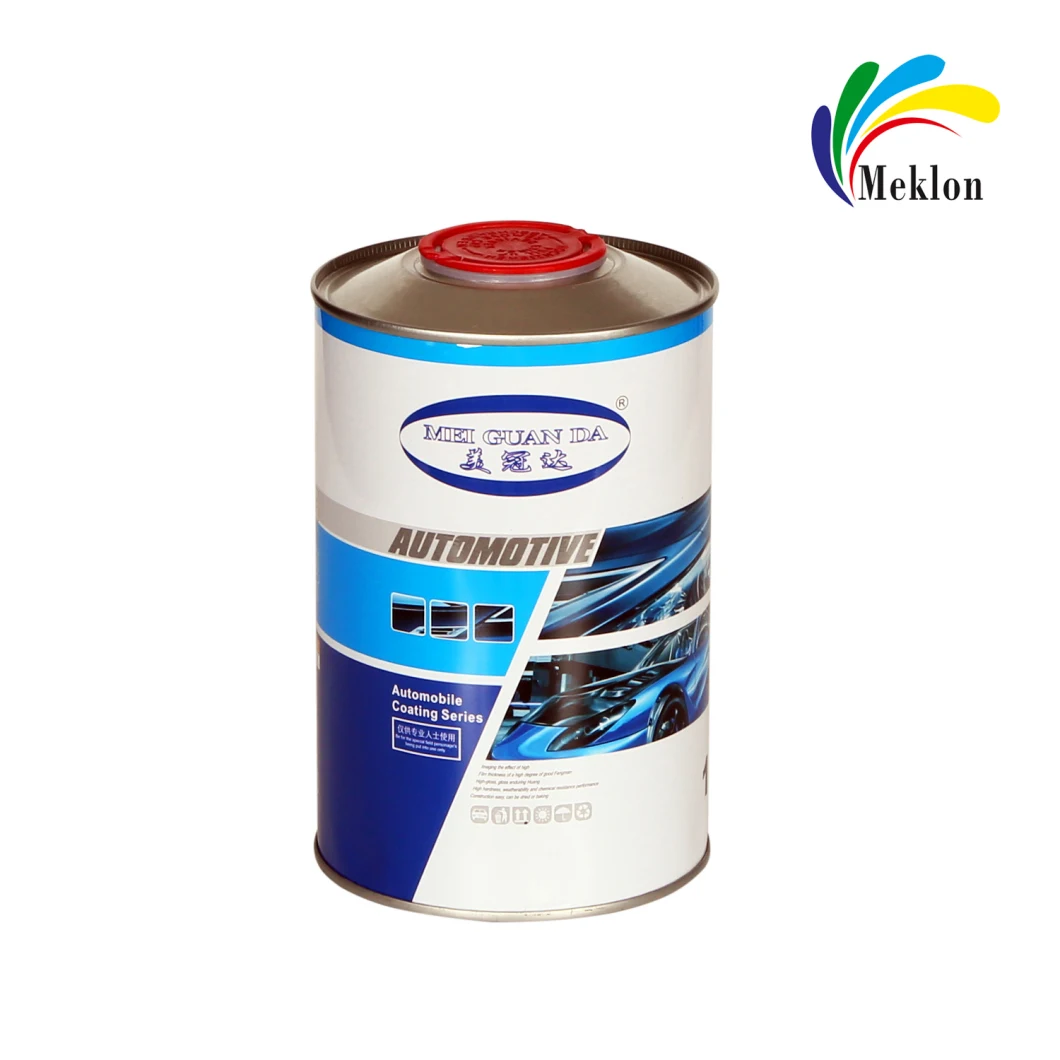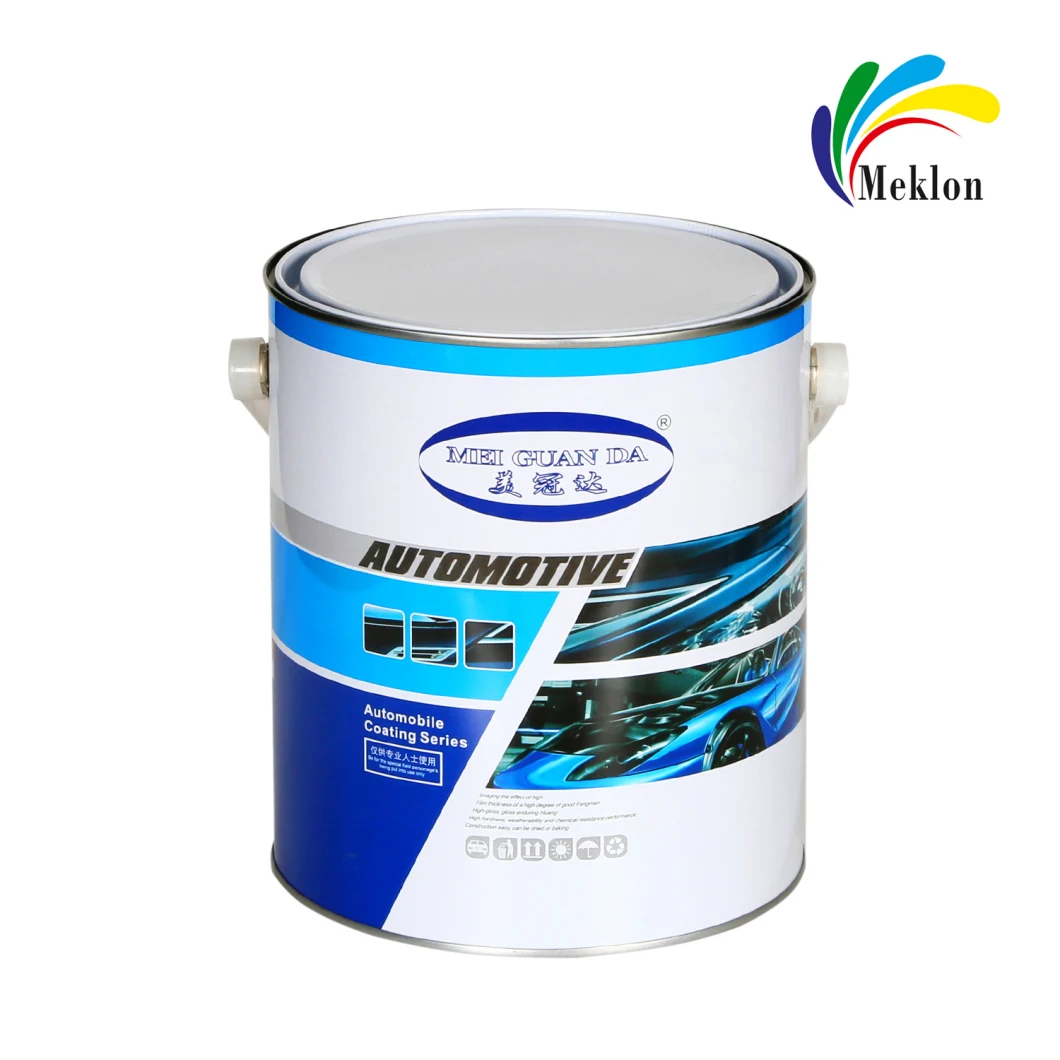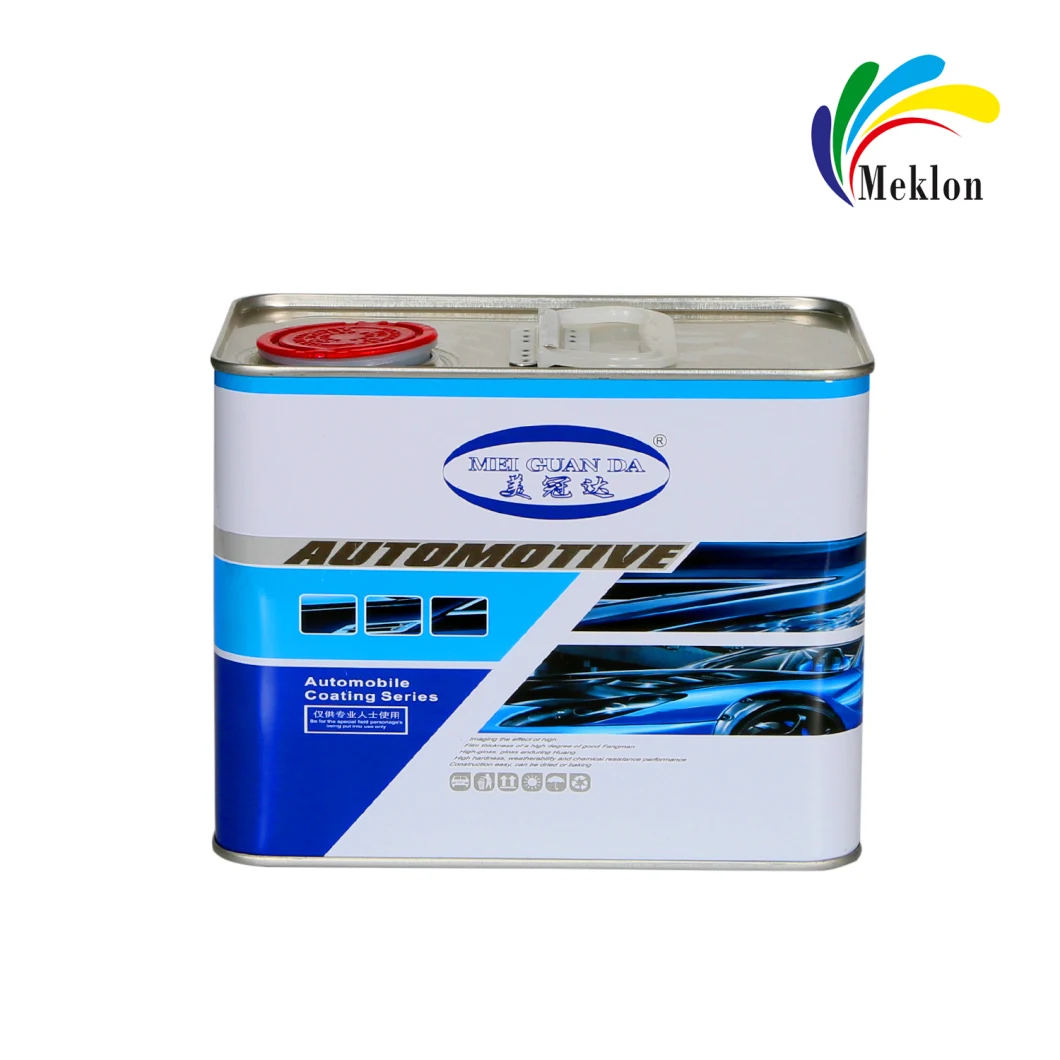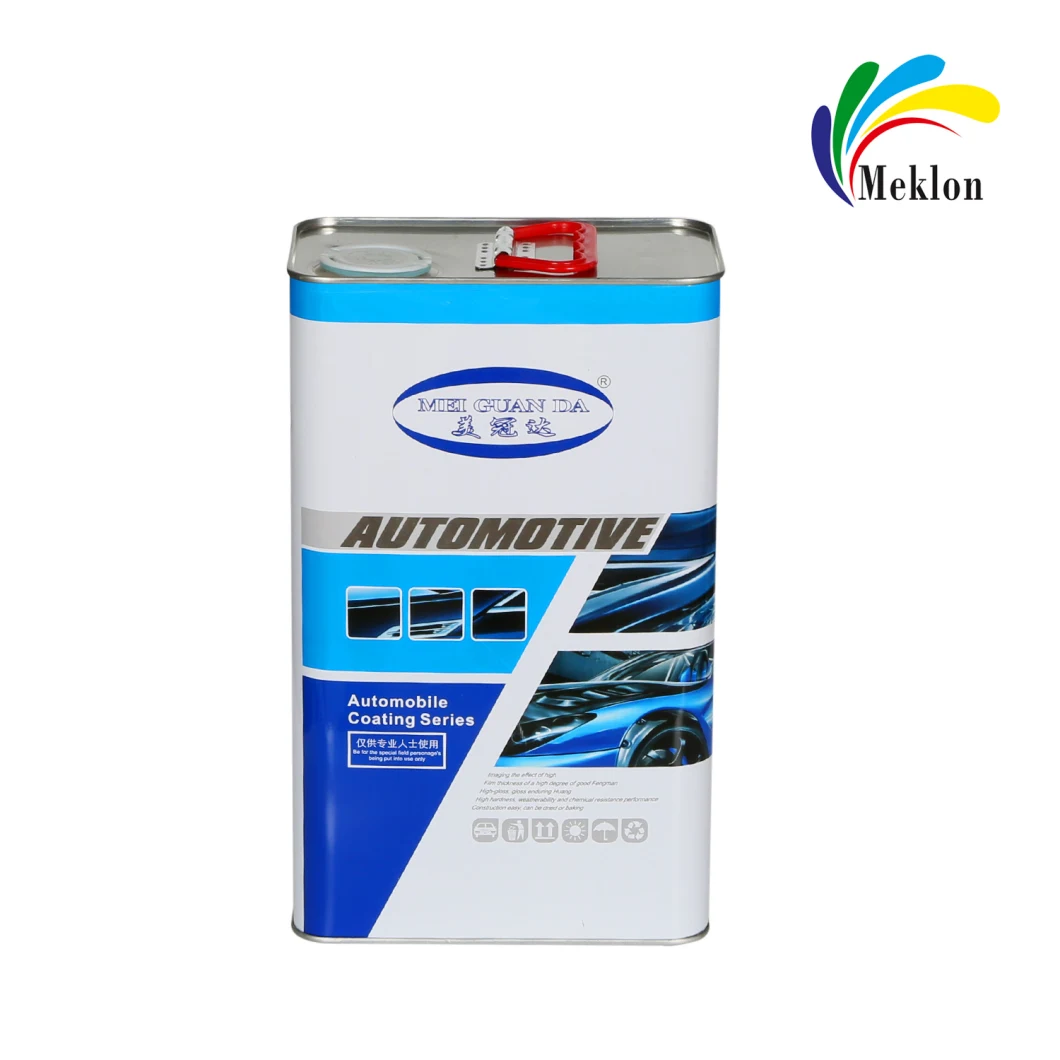 Color System Chart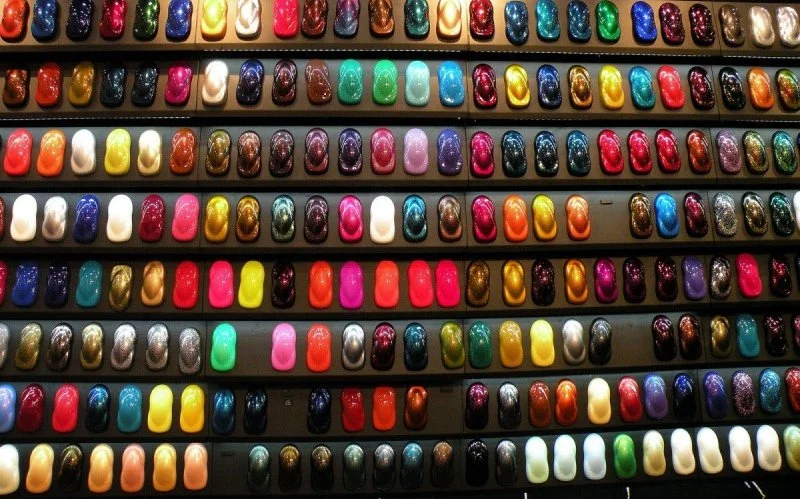 Company Profile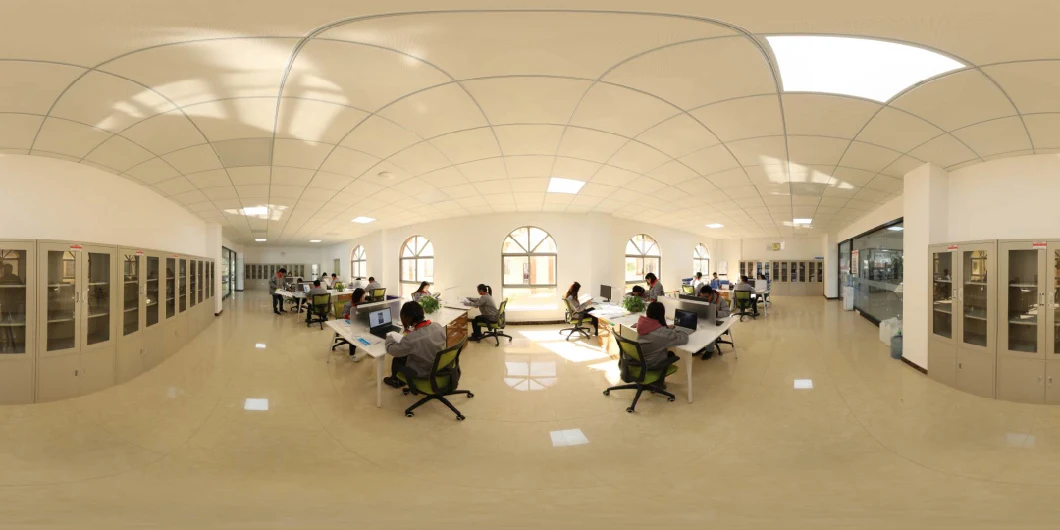 Company Profile

Guangzhou Meklon Chemical Technology Co., Ltd. is an industrial company integrating production, sales and research and development. Specializing in the production of automotive paints, automotive paints, topcoats, primers, metallic colors, pearl colors, high solid varnishes, quick-drying varnishes, curing agents, thinners, 1K / 2K primers, halfway primers, body fillers, putty and related Additives, degreasing agents, quick-drying additives, slow-drying additives, anti-whitening thinners, fixing agent control agents, flippers, matting agents, softening additives, fade-out thinners, chassis armor paints, etc. And other auxiliary auto beauty materials.

The factory is located in Huacai Chemical City, Wengcheng, Guangdong, where the environment is elegant. We have a modern high-standard workshop covering an area of over 60,000 square meters. We adhere to the principle of stable quality and are well-known in the industry, using European, American, Asian and other top international raw materials. Supporting industry-leading testing equipment and paint-making technology, and fully passed the ISO9001: 2008 international quality management system, ISO14001: 2004 international environmental management system certification. Our R & D department has more than 20 professional and technical personnel, chemical engineers, and strictly controls the quality assurance from raw material testing to production process. We are also committed to the development of new products and provide customers with the most accurate and professional after-sales service.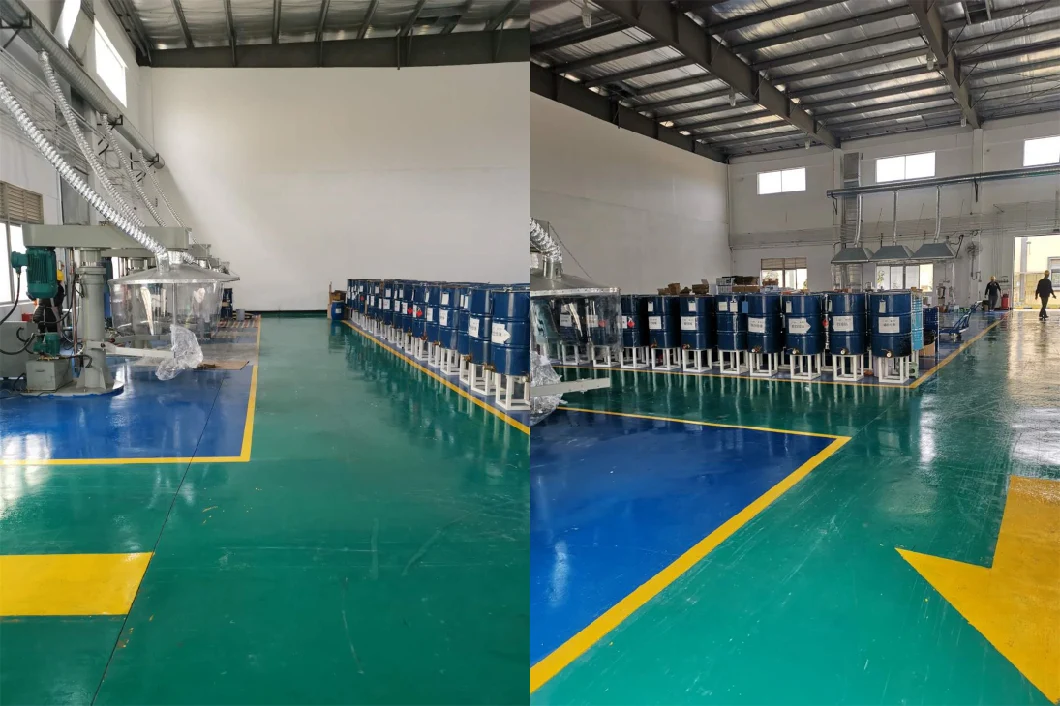 Our company strictly manages production in accordance with ISO / TS16949: 2009, adhering to the concept of "everything for the customer", running the management policy of "scientific, strict and excellence", and always taking the responsibility to continuously improve product cost performance, Meiliang uses environmental protection, low VOC The production of materials and products helps customers improve efficiency, reduce energy consumption, beautify the environment, and achieve a win-win situation in the industrial chain.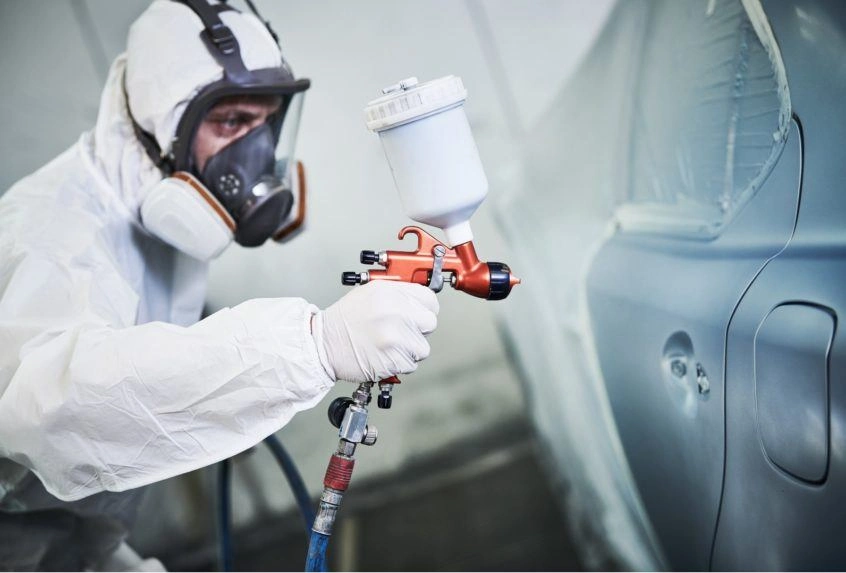 Our Advantages
The reason you choose us:
Reason 1: The influence of the annual increase in international demand has expanded
-China's largest manufacturer and most influential supplier of automotive refinish paint
-Overseas market grows by more than 50% every year
-The continuous improvement of product quality is more and more popular and recognized by customers, and continuous overseas business expansion

Reason 2: Extensive sales network
-20 branches worldwide
-Distributors in more than 70 countries/regions and more than 2,000 distributors in the domestic market

Reason 3: Value-added products and services
-Accurate color system and full range of products
-Strict quality control and strong R&D capabilities
-Good brand image, various marketing solutions and professional customer service

Reason 4: Reputable partners
-BASF's strategic partner in China
Strategic partner of BYK Germany in China
Strategic partner of German TEGO additives in China
Hemings|The strategic partner of Deqian Auxiliaries in China
-Won awards such as "Quality Service Credit AAA Enterprise", "National Consumer Trust and Satisfaction Brand", and "China Famous Brand".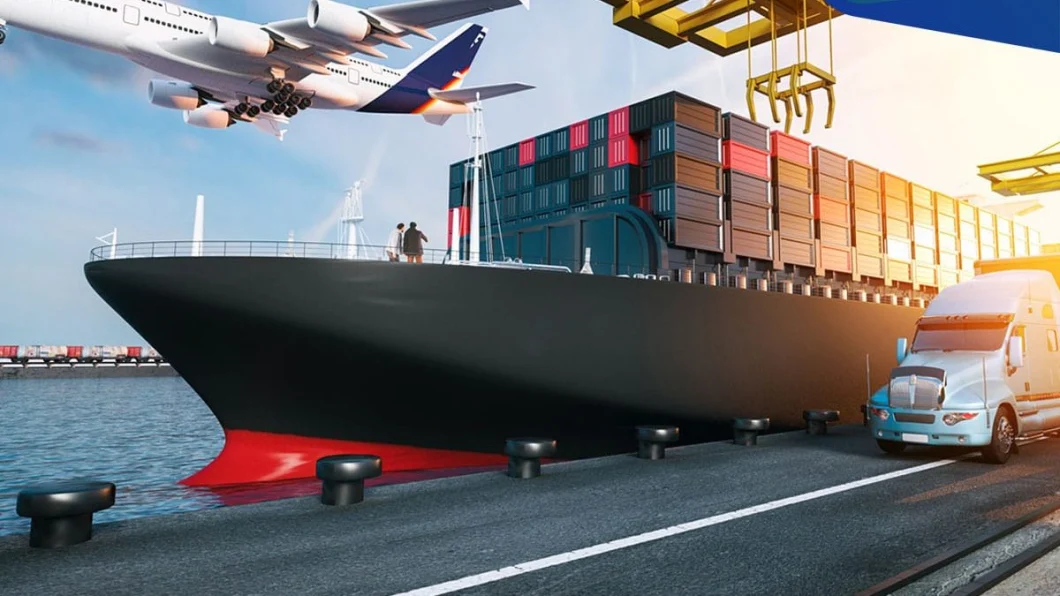 Our Services
1.OEM service provided.We can design and make for the customers for their own brands.
2. Fast Delivery. We can finish the production and deliver/ship the goods within 7 to 10 days after the order confirmed.
3.We will produce the products according to the customers' request, the quality and special requirement.
4.We provide the promotional gifts to the customers. If the customers have their own brand, the promotional gifts will be with their own brand name and design.
5.We will give fully support to the customers.



Q:What's your MOQ?
A:It can be run according to your specific business plan, and we can measure your order according to your actual situation.
Q:
Can we do OEM?
A:Yes, OEM is welcome.

Q:
Are you manufacturer or trading company?
A:We are professional manufacturer and we have our own Factory.

Q:
Can we visit your factory?
A:Yes. You are welcome to our factory.

Q:
How about your payment?
A:30% deposit in advance, 70% balance by T/T, paypal, Western Union or else before shipment.

Q:
Do you provide samples?
A:Yes, we can provide you with free sampples, you just need to pay for freight.

Q:
How about your delivery time?
A:Usually 7days after receiving your deposit.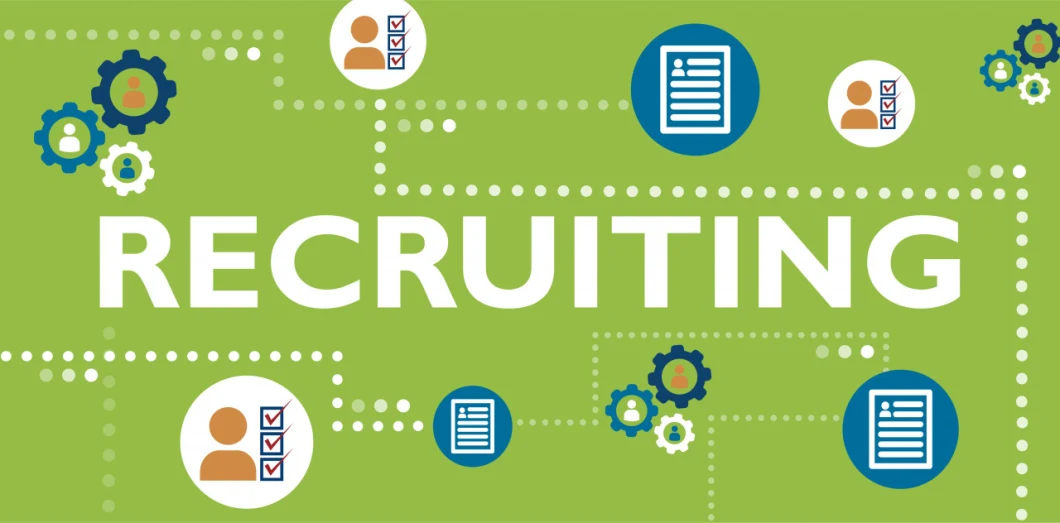 Recruiting regional business partners
Introduction:
We have different product lines to meet the needs of different markets. The Ferrari brand is a product dedicated to users of high-performance varnishes. It is our most popular brand at home and abroad and currently holds the largest market share in overseas markets. Suitable for groups who are accustomed to pursuing excellence in varnish products. Porsche is a matching product for mid-to-high-end color hybrid systems, with outstanding color effects and outstanding color expression.
The potential market share they can win is immeasurable.
Regional business cooperation requirements: distributors with extensive sales networks and distribution management are preferred.
We can let partners in interested regions provide free samples for trial and experience. Good results can be obtained under the condition of complying with the construction standards. After trying the samples, we can feel the product effect, paint film saturation and gloss of the car paint. The leveling degree meets your own business requirements, and you can start regional business cooperation and business development
Agents needed in the following regions: Africa, South America, North America, West Asia, North Asia, Southeast Asia, Middle East, Europe, etc.
Looking forward to your Joining